a compact designed and space-saving tissue holder for your car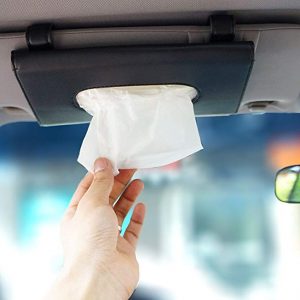 FEATURES
✔ Save Space - Our high-quality black car visor tissue holder helps to keep your vehicle organized. The metal memory clips used to secure the tissue holder to the car visor are extremely tight, ensuring that it does not fly around while driving.

✔ Super Simple to Install - Simply clip the tissue case to the visor, seatback, or car door pocket to avoid the hassle of searching for the tissue, organize all your loose tissues, and provide storage to help you maintain a good driving mood.

✔ Well-Made - Our tissue holder is extremely well-made and attractive. Handmade widened the design to allow for easier extraction of tissues. You can grab a tissue for a quick sneeze without having to dig through your purse.

✔ Reusable in Multiple Vehicles  - The reusable visor napkin holder is simple to open and refill with fresh paper towels. Suitable for most cars, but also ideal for use on a truck, boat, SUV, or RV.