Solar Powered Water Fountain
Instantly Make Your Backyard A Relaxing Oasis!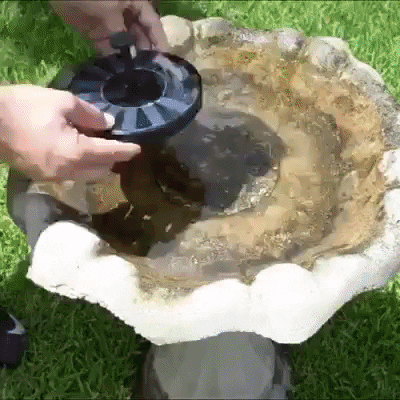 Give your backyard a touch of nature with this Solar Powered Water Fountain, instantly turning any body of water into a relaxing birdbath, it requires no wiring and is powered completely off the sun!Great for attracting birds, it makes a great feature in any pool, backyard, fish tank, pond, or existing birdbath.
FEATURES: 
✅ ENVIRONMENTAL PROTECTION AND ECONOMY: This solar fountain is driven by solar energy and can work in the sun in just 5 seconds. It does not require any power batteries, no additional investment, and no pollution. The important thing is that it will attract a lot of birds to your garden.
✅ SIX NOZZLES AND SIX MODES: Contains 6 different nozzles, which will produce different spray shapes and spray patterns. The height can be adjusted by replacing the nozzles to avoid splashing out of the basin. The spray height can reach 30-50cm. You can easily replace the nozzle.
✅ MULTI-PURPOSE: This environmentally friendly solar fountain pump has a diameter of 5.1", which is very suitable for bird baths, fish tanks, ponds, swimming pools, gardens, outdoor, oxygen circulating water. Your garden will definitely attract all the attention of passers-by. Let your yard see It looks so interesting to be decorated by solar water pumps.
✅ EASY TO USE: Just place the solar-powered bird bath fountain in the sun in the water, the greater the sun, the better the effect, and the fountain will show you unexpected beauty. No excessive maintenance, no complicated installation, no more investment. Let you enjoy all the good things, this is also a floating pond fountain.