Retractable Cat Teaser Toy
 Cats are crazy about chasing games!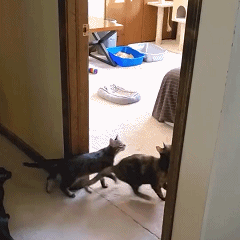 This adorable bouncing mouse toy will keep your cat entertained for hours! It is a type of elastic rope that can provide your kitten with hours of entertainment and can even accompany the cat to exercise.

FEATURES

✅ Hanging cat toy - When your cat touches this cat kicker toy, the plush mice move in a wiggling motion, and the cat toy has a built-in sand ball, making a rustling sound, enticing your cat to kick and play. It will help the cats get exercise and avoid obesity, as well as improve their dependence and emotional connection with you.

✅ Exciting Cat Entertainment - Cats are crazy about chaser games! Combine string and plush mice make a great hanging cat toy; this cat feather toy is an irresistible cat lure! You can enhance the effect by adding catnip, which will get your cats excited and bring out their "hunt instinct," causing them to run and jump like wild animals.

✅ Safe & Durable Materials - This hanging cat toy is made of durable plush, which is safe and non-toxic for your kitten. It is the ideal Thanksgiving, Christmas, and New Year's gift for pet owners or their own pets.