The ONE AND ONLY TOOL YOU'LL EVER NEED!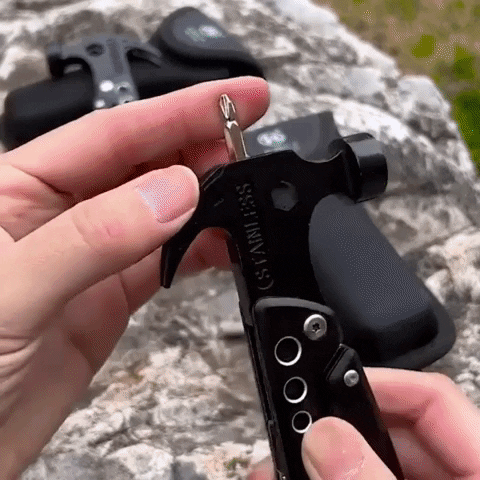 FEATURES

✅ Multi-Function: The Multi-tools contain different tools including a hammer, nail puller, pliers, knife, saw, bottle opener, slotted screwdriver, wire cutter, assorted hex wrenches, screwdriver, etc. Have three kinds of screwdrivers change.

✅ Outdoor or Emergency Utility Tool: The Multi-tool is suitable for use in hiking, outdoor, mountain climbing, camping, fishing, broken windows, emergency escape, handworks and etc. The multi-purpose tool can also be placed in the car and used to break glass in an emergency.
✅ Easy to Carry: Portable and equipped with a high-strength nylon sheath with a magic band and belt band for easy carrying. The survival knife, and multi-tool can be easily put in your car, or put in your jeans pocket. You can also easily put it in your traveling bag. The multi-tool surface is matted which is not easy to slip off during use.
✅ High Quality: Full stainless steel with durable black oxidation for the main part, matted surface. Strong enough to cut, pry, twist the screw, open fire hydrant, saw wood, break the glasses and etc. Meet your diverse needs.