PROMOTES GREENER, HEALTHIER LAWNS!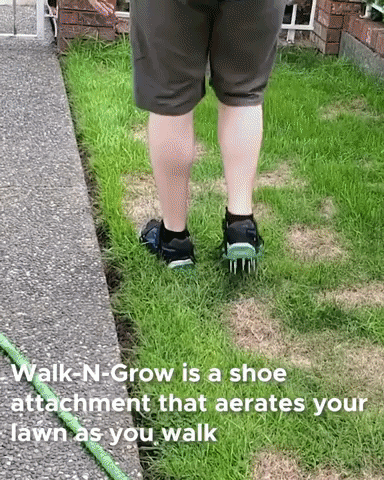 Skip all the hassle of bulky, expensive equipment and just take a stroll through your yard! All you have to do is to strap on the lawn aerator sandals and walk around your lawn, no assembly or prep required. You'll have a gorgeous lawn before you know it!
FEATURES
✅ KEEP YOUR GRASS HEALTHY & LUSH: Make sure that air, water, and nutrients reach deeper into your yard soil and add thickness to your grass with the Lawn Aerator Shoes!
✅ SAVE YOUR TIME, EFFORT & MONEY: The smart one-strap design will allow you to easily put on and remove your spike shoes for grass. Plus, the nonslip buckle will ensure a comfy and tight fit.
✅ FEEL THE DIFFERENCE WITH EVERY STEP: Reach deep-rooted soil and invigorate your grass with our lawn aerator shoes, which feature a sturdy plastic base and industrial-grade rust-proof spikes!
✅ MUST-HAVE LAWN SHOES WITH 26 SPIKES: Our convenient and easy-to-use yard aerating sandals with spikes will allow you to bring new life to your lawn thanks to the 26 x 2.2-inch spikes. All you have to do is wear them and walk around!
✅ ADJUSTABLE SIZE: Whatever your shoe size is, every pair of aerator shoes come with an adjustable Velcro strap for the exact right fit. Both men and women can use these handy shoes to make lawn maintenance a breeze!