Cutting Food Has Never Been This Easy!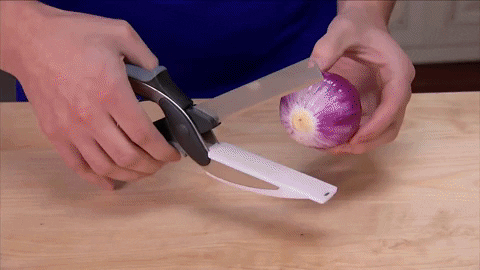 Use this Food Cutter Scissors to slice any vegetable easily! A small compact food chopper and kitchen scissors, which replace a full set of knives and cutting board. Use these unique kitchen gadgets to replace your food chopper, food scissors, vegetable slicer, and fruit cutter. 
FEATURES 
✔ Superior Material - Made of stainless steel, blades are sharp and rustproofed. PP+TPR handle offers secure and comfortable grips on hands and makes your cutting much faster, safer, and easier.

✔ Versatile -The 2-in-1 versatile Food Cutter Scissors with a built-in cutting board can be shredded, sliced, diced, peeled, and shredded. save space kitchen with convenient and faster preparation of food.
✔ Dishwasher Safe - Our vegetable scissors are detachable and easy for cleanup or by hand under warm water. This easy smart cutter it's perfect for creating unique, healthy, and delicious meals.
✔ Ergonomic Design -The silicone handle is based on an ergonomic design to make your palms comfortable. Make cooking easy.
✔ Easy to Operate - 2-in-1 knife and cutting board. The smart clever scissor is easy to operate. One smart clever scissor takes place of the board and knife together. Quickly and safely slice foods without the messy cleanup.