Allow your dogs to brush their own teeth and maintain fresh breath!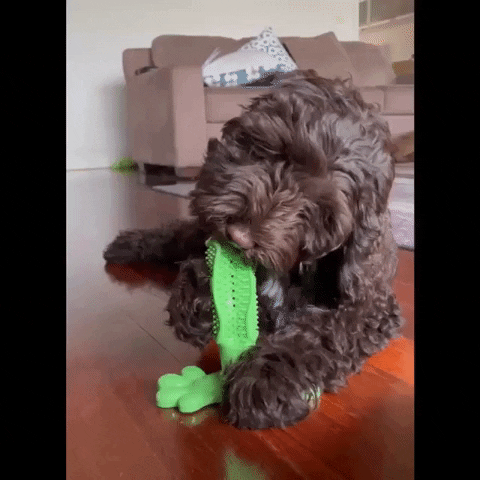 This dog toothbrush stick has concave grooves and serrated brush heads to assist the dog in cleaning their teeth and removing plaque and tartar when they bite. The holding base is designed to be easier to stand on the ground, allowing the dogs to use it more easily. Squeeze toothpaste into the hole on the top or side of the dog toothbrush for fresh breath and better cleaning.

FEATURES

🐶 SAFE AND DURABLE MATERIAL - This pet educational brushing toy is made of natural TPR material, which is more dependable than regular rubber. It is also environmentally friendly, safe, non-toxic, and harmless. Strong ropes are made of high-density material and are long-lasting, durable, and unbreakable.

🐶 MUCH MORE THAN A TOY - This isn't just a dog toothbrush or a chew toy. Dogs who stay at home every day, often lose energy and become frustrated, which can cause them to tear home furnishings. It can occasionally be rigged with a dog lure to make it more entertaining. It has the ability to chew toys, relieve boredom, and express emotions. The toothbrush stick aids in the maintenance of clean teeth and healthy gums. Brushing your teeth on a regular basis helps to freshen your breath and reduces plaque and bacterial buildup.

🐶 REDUCING ANXIETY - This is a great toy for your dogs to play with when they are alone at home. Meanwhile, to avoid the destruction of furniture, shoes, and other household items.

🐶 EASY TO CLEAN - Rubber is a very easy material to clean. It can be washed with clear water directly. We recommend cleaning the brush before and after chewing the dog to keep it clean.