Say Goodbye To Scratched Furniture!
Want to stop your cat from completely shredding your furniture to bits?
If your cat is wreaking havoc on your home furniture then you need a good cat scratcher to encourage your cat not to scratch furniture.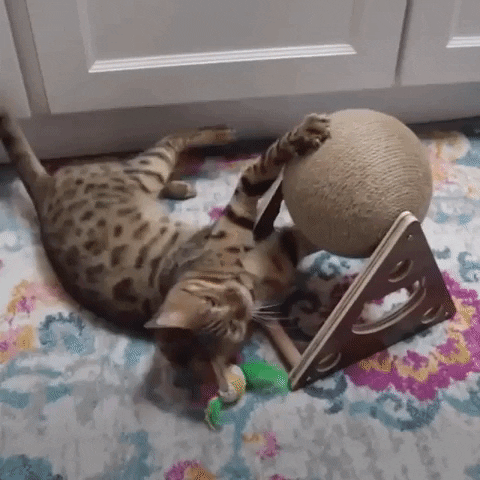 FEATURES
😺 Protect Your Furniture: This toy adopts durable solid wood and a natural sisal ball. Put in the living room, bedroom, and other places cats love to go can prevent sofa and other furniture from being scratched by cats. Save money on maintaining the furniture.
😺 Safe & High Quality: The base of the triangle frame is designed to support a sisal ball, which is stable and difficult to pour so that cats cannot be hurt and safer when playing with this toy. The sisal cat scratching ball is made of environment-friendly and durable materials and will not fall apart easily.
😺 Interesting Cat Toys: The unique hollow design meets the curiosity of cats by combining it with the characteristics of cats' natural love of drilling holes. The spinning sisal ball can also greatly attract the cat's attention.
😺 Easy Install: This cat toy is equipped with a screwdriver. It is very easy to install. Just connect a triangular board with a stick, put the sisal cat scratching ball on the stick at the top, then put another board on the stick, and tighten the three screws on the board. 
SPECIFICATION