Adjustable Oil Filter Wrench
 EASIER WAY TO CHANGE AND REMOVE OIL FILTERS!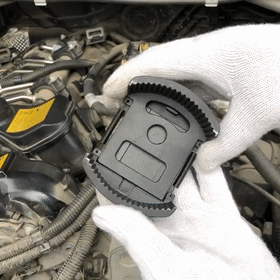 Technicians are problem solvers who aren't afraid of sweat on their brows and grease on their hands. They provide high-quality services that demand high-quality tools. When they need a reliable tool, they know they can depend on an Adjustable Oil Filter Removal Wrench tool to deliver.
FEATURES

✅ HIGH-QUALITY MATERIAL - Made of high-quality cast steel, our oil filter wrenches are not only built tough but the surface is treated with a high-quality black anodized finish to prevent corrosion.
✅ QUENCHING FORGING - The gear is integrally quenched and forged, with strong locking force to prevent slippage.
✅ USER-FRIENDLY - Meticulous sanding makes the texture more smooth, offers a comfortable operate feeling.
✅ CONVENIENT & SAVE TIME - Reduces time-consuming removals and removal of stubborn filters.